Mocha Muffin-Cino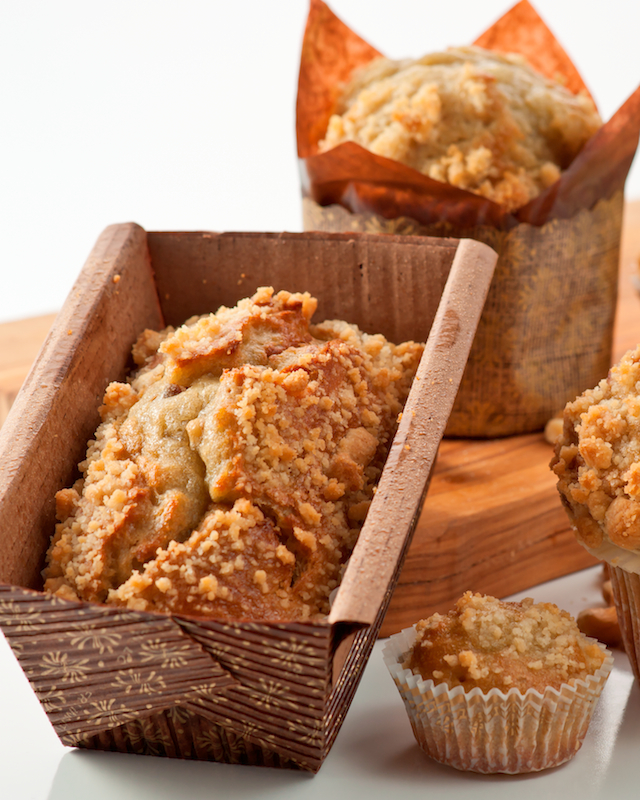 Guaranteed to wake up your taste buds- it's the perfect way to stir the senses and jump-start the day. It's a cross between a mocha cappuccino, chocolate, and a hint of vanilla blended together. This will put some jazz in your step!
Nutrition Facts
Serving Size 4 oz(113g) Amount per Serving: Calories 430, Calories from Fat 210. Total Fat 24g-37%, Saturated Fat 5g-27%, Trans Fat 0g, Cholesterol 110mg-37%, Sodium 370mg-16%, Total Carbohydrate 48g-16%, Fiber 2g-8%, Sugars 6g, Protein 7g, Vitamin A 4%, Vitamin C 0%, Calcium 6%, Iron 15%.
*Contains Eggs, Milk
Packaging Info
Net Weight/Case = 18 lbs; Unit of Sale = 1 Case
3 lbs per Bag, 6 Bags per Case
Shelf life of all products is 1 Year, frozen.
Gross Weight/Case = Approx. 19lbs; Case Dimensions: 15x9x8, 0.61 Cu. Ft.
Ingredients
Cake Base (Sugar, Bleached Enriched Flour, Niacin, Iron, Thiamine Mononitrate, Riboflavin, Folic Acid), Whole Pasteurized Eggs, Semi Sweet Chocolate (Sugar, Chocolate, Cocoa Butter, Milk Fat, Soya Lecithin- An Emulsifier, And Natural Flavors), Soybean Oil, Water, Heavy Cream, Coco Powder, Vanilla Powder Flavoring (Dextrose & Propylene Glycol), Instant Coffee.
Preparation
Use your imagination to make mini loaves and tea cakes, muffins, sweet breads, coffee cakes, cream cheese rolls, etc. As ovens, pans and fillings will vary baking times, the following is only a guide to baking.
Baking Temperatures and Times: 
Standard Oven - Preheat to 375 F
Convection Oven - Preheat to 365 F
1 oz - Bake for 17 minutes
4 oz - Bake for 24 minutes
8 oz - Bake for 40 minutes
Thaw container in refrigerator overnight.
Use fluted paper liners (muffins) or lightly spray pans (cakes).
For muffins, fill each cup ¾ full.
After initial baking time, spring-test or test with toothpick in center of product.
Cool to room temperature. Remove from pan.
Please Note: Reseal and return thawed batter to refrigerator. For best results, use thawed product within three (3) days.