Double Chocolate Chip Cookie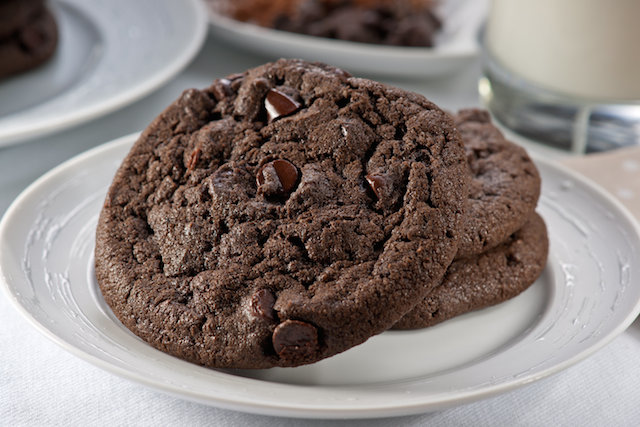 Dark, lavish, and sweet, we dare any chocolate lover to resist this all natural chocolate treat! Chocolate on top of chocolate + chocolate chips = chocolate perfection.
Nutrition Facts
Serving Size 4 oz (113g). Amount per Serving: Calories 490, Calories from Fat 210. Total Fat 24g-37%, Saturated Fat 14g-69%, Trans Fat 0g; Cholesterol 85mg-28%, Sodium 320mg-13%, Total Carbohydrate 66g-22%, Fiber 6g-23%, Sugars 41g, Protein 6g, Vitamin A 10%, Vitamin C 0%, Calcium 4%, Iron 10%.
*Contains Eggs, Milk
Packaging Info
Net Weight/Case = Approx. 22 lbs
Approx. Case Count: 4 oz Units; 90 Units/Case
1 Pallet = 72 cases = Approx. 1700 lbs. 1 Truck Load is approximately 22 Pallets
Shelf life of all products is 12 months, frozen.
Gross Weight/Case = Approx. 23 lbs; Case Dimensions: 17x11x7.5, 0.8 Cu. Ft.
Ingredients
Unbleached Flour, Semi Sweet Chocolate Chips(Sugar, Chocolate, Cocoa Butter, Milk fat, Soy Lecithin, Natural Flavors), Sugar, Butter (Cream & Salt), Whole Pasteurized Eggs, Brown Sugar, Baking Cocoa, Dark Baking Cocoa, Baking Soda (Sodium Bicarbonate), Natural Chocolate Flavoring, Salt.
Preparation
Perfectly baked cookies result from lower baking temperatures and longer baking times. The perfect cookie is light brown with a crunchy edge and soft center.
Baking Temperatures and Times:
Standard Oven – Preheat to 325 F
Convection Oven – Preheat to 315 F
1.0 oz – Bake 10 – 13 min
1.4 oz – Bake 18 – 20 min
2.0 oz – Bake 20 – 22 min
2.5 oz – Bake 23 – 25 min
4.0 oz – Bake 23 – 25 min
Do Not Over Bake: Cookies should not be hard or crunchy.
Do Not Under Bake: Cookies should not have a wet center.