Chocolate Chip Cookie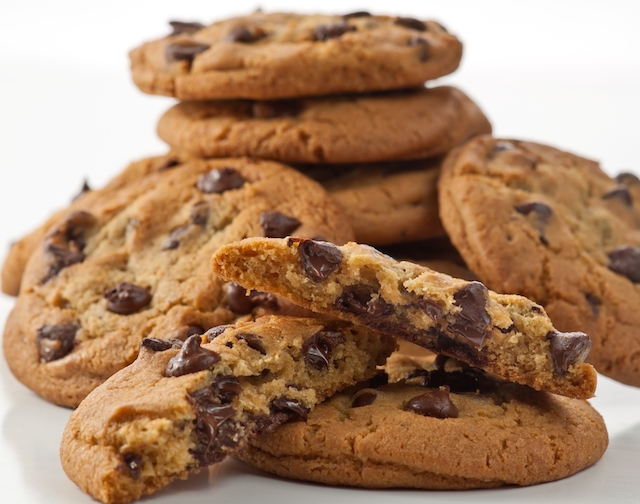 We've made America's most popular cookie even better by using premium, all natural ingredients. Each magnificent bite is bursting with semi-sweet chocolate. Enjoy!
Nutrition Facts
Serving Size 4 oz (113g). Amount per Serving: Calories 490, Calories from Fat 200. Total Fat 23g-35%, Saturated Fat 13g-64%, Trans Fat 0g; Cholesterol 80mg-26%, Sodium 320mg-13%, Total Carbohydrate 69g-23%, Fiber 5g-21%, Sugars 44g, Protein 6g, Vitamin A 8%, Vitamin C 0%, Calcium 4%, Iron 10%.
*Contains Eggs, Milk
Packaging Info
Net Weight/Case = Approx. 22 lbs
Approx. Case Count: 4 oz Units; 90 Units/Case
1 Pallet = 72 cases = Approx. 1700 lbs. 1 Truck Load is approximately 22 Pallets
Shelf life of all products is 12 months, frozen.
Gross Weight/Case = Approx. 23 lbs; Case Dimensions: 17x11x7.5, 0.8 Cu. Ft.
Ingredients
Unbleached Flour, Semi Sweet Chocolate Chips (Sugar, Chocolate, Cocoa Butter, Milkfat, Soy Lecithin, Natural Flavors), Sugar, Butter (Cream & Salt), Whole Pasteurized Eggs, Brown Sugar, Natural Vanilla Flavor(Sugar & Silicon Dioxide), Baking Soda (Sodium Bicarbonate), Salt.
Preparation
Perfectly baked cookies result from lower baking temperatures and longer baking times. The perfect cookie is light brown with a crunchy edge and soft center.
Baking Temperatures and Times:
Standard Oven – Preheat to 325 F
Convection Oven – Preheat to 315 F
1.0 oz – Bake 10 – 13 min
1.4 oz – Bake 18 – 20 min
2.0 oz – Bake 20 – 22 min
2.5 oz – Bake 23 – 25 min
4.0 oz – Bake 23 – 25 min
Do Not Over Bake: Cookies should not be hard or crunchy.
Do Not Under Bake: Cookies should not have a wet center.